Room Colors and Their Effects….!
The colors of the rooms in your home are a direct reflection of your personality. While most of us may not spend a lot of time thinking about room color, it affects us every day. Room color can influence our moods and our thoughts.
Choosing color combinations is one of the most intimidating steps for beginners. Color has the power to change the shape and size of furnishings, as well as the shape and size of the room itself. Selecting colors is not difficult if you equip yourself with some basic information about color and its effects.
Let's find out more about room colors and how they influence your mood………
You can easily match every room's colors to your personal desires, to your taste and to the room's purpose. Light colors are expansive and airy, making rooms seem larger and brighter. Dark colors are sophisticated and warm; they give large rooms a more intimate appearance.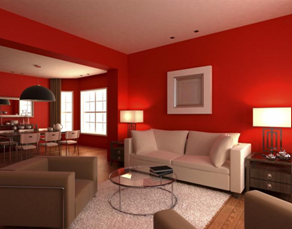 Red raises a room's energy level. The most intense colour, it pumps the adrenaline like no other hue. It is a good choice when you want to stir up excitement, particularly at night. In the living room or dining room, red draws people together and stimulates conversation. In an entryway, it creates a strong first impression.
Red has been shown to raise blood pressure and speed respiration and heart rate. It is usually considered too stimulating for bedrooms, but if you're typically in the room only after dark, you'll be seeing it mostly by lamplight, when the color will appear muted, rich and elegant.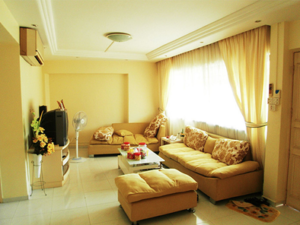 Yellow captures the joy of sunshine and communicates happiness. It is an excellent choice for kitchens, dining rooms and bathrooms, where it is energizing and uplifting. In halls, entries and small spaces, yellow can feel expansive and welcoming.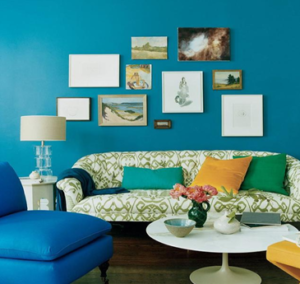 Blue is said to bring down blood pressure and slow respiration and heart rate. That is why it is considered calming, relaxing and serene, and it is often recommended for bedrooms and bathrooms.
Green is considered the most restful colour for the eye. Combining the refreshing quality of blue and the cheerfulness of yellow, green is suited for almost any room in the house. In the kitchen, green cool things down; in a family room or living room, it encourages unwinding but has enough warmth to promote comfort and togetherness.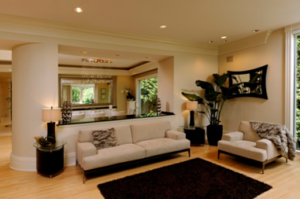 Neutrals (black, gray, white and brown) are basic to the decorator's tool kit. All-neutral schemes fall in and out of fashion, but their virtue lies in their flexibility: Add color to liven things up; subtract it to calm things down.
Black is best used in small doses as an accent. Indeed, some experts maintain that every room needs a touch of black to ground the color scheme and give it depth. To make the job easier, rely on the interior designer's most important color tool: the color wheel.